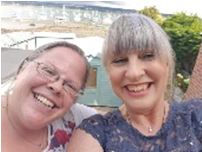 Welcome and Thank you for your interest in our after-school club.
Woodpeckers is an independent business within the school. We offer childcare for all children at Woodford Valley exclusively. It is run from 3-5pm every weekday. This is broken up into two sessions where children can join us for the whole two hours, just come 3-4 or can come to us 4-5pm if they are in another school club. We pick up direct from the classroom for KS1. The cost of the club is £5 an hour. This includes a healthy snack. Our preferred method of payment is bank transfer, but we can take cash.
The club is run in Durnford class, with pick up from the outside entrance opposite the wooden gazebo.
So, who are we?
Both of us work as Teaching Assistants within the school. Dawn works in Durnford (year 4) and Helen works in Netton (year 2). With us both in school all the time it really helps us get to know the children and them to get to know us. So, we are not a strange face!
What happens at Woodpeckers?
We start by having a snack and relax after our day at school. Snack is provided but it is up to the individual child if they would like it. We always have a few different things on offer: Cheese, ham, peppers, carrots, crackers, fruit, and toast. We can cater for any dietary requirements. We then have some free time to play lots of different toys such as Lego, cars, dolls, beads, playdoh, and board games.
There is also a quiet place to sit and relax as well. We then provide some sort of craft; this is again completely up to the child if they want to join in. It could be painting, drawing, modeling our list is endless! When the weather allows, we also try to go outside for some fresh air, we are lucky to have use of all the schools outside facilities.
Our biggest wish at Woodpeckers is for the children to be safe, relaxed and have a lovely time.
We have had some wonderful feedback from parents "you are like a little Woodpecker family" "he asks everyday is it a Woodpecker day!" "they love coming to you"
We are not just for working parents we are here for anyone who would like to use us.
Booking
We send out a termly booking form if you know the dates you need. There is also a weekly one. It is also possible to have late booking for those unexpected emergencies.
All you must make sure is your child is registered with us. As we are separate from the school, we must keep our own records. If you register and never use us that is fine at least you know you have that back up. For legal reasons if we do not have a registration form, we are unable to accept your child. The registration forms are never shared anywhere else.
If you have any questions please feel free to contact us woodfordwoodpeckers@gmail.com we are always happy to help.
We look forward to meeting you all,
Helen Evison and Dawn Sims